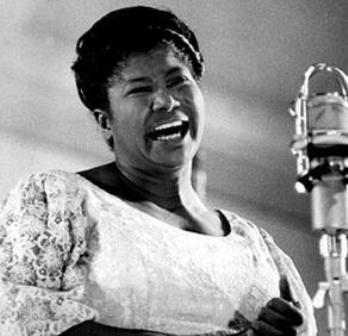 Mahalia Jackson, the Gospel Queen,reigned as a pioneer interpreter of gospel music whose fervent contralto was one of the great voices of this century.
Singing in a grainy, full-throated soprano that employed slurs and blue notes, Jackson brought a heightened drama and syncopated bounce to her readings of such gospel classics as "Move On Up a Little Higher," "He's Got the Whole World in His Hands" (a Top 100 pop single) and "How I Got Over."
She sang for Presidents Eisenhower and Kennedy, performing at the latter's inaugural. A favorite of Dr. Martin Luther King Jr., Jackson sang at his request immediately before his "I Have a Dream" speech at the March on Washington in August 1963.
Mahalia Jackson was born in New Orleans, Louisiana, on October 26, 1911. She was the daughter of Charity Clark, a laundress and maid, and Johnny Jackson, a Baptist preacher, barber, and longshoreman. Mahalia Jackson was raised without the presence of her father.
Her mother died when Jackson was five. She was raised by an extended family of one brother, six aunts, and several half-brothers and sisters, children of her father. Her grandparents had been born into slavery and were laborers on Louisiana rice cotton plantations.
Some of her relatives were entertainers and played valses, quadrilles, polkas, and mazurkas at parties for white people. They also played blues and rags in Ma Rainey's Circus.
The strong musical life of New Orleans in the early 1900s made a profound impression upon the young Mahalia Jackson. She lived next door to a Holiness church whose rhythms and instruments appealed to her growing musical development.
Jackson knew well the standard hymn tradition of the Mount Moriah Baptist Church where her family worshipped. In addition to the sacred music, she was surrounded by music of the Mardi Gras, street vendors, and the bars and dance halls of New Orleans's black community.
When Mahalia turned sixteen she moved to Chicago in 1927. After attending her first church service, and giving a belief performance, Mahala was invited to join the Choir at Salem Baptist Church in Chicago.
As a result of this affiliation, she was befriended and begun touring with the Johnson Brothers, an early professional Gospel group.
in 1929, Mahalia was introduced to composer Thomas A. Dorsey and he mentored her musical talent. The Johnson Brothers went on a concert tour with Mahalia singing Dorsey's songs in various church and convention centers nationwide.
His composition " Take my hand precious Lord " became Mahalia's defining song.
In 1936 Mahalia Jackson married Isaac Lanes Grey Hockenhull ("Ike"), a graduate of Fisk University and Tuskegee Institute, who was 10 years her senior. Mahalia refused to sing secular music, a pledge she would keep throughout her professional life.
She was frequently offered money to do so and she divorced Isaac in 1941 because of his unrelenting pressure on her to sing secular music and his addiction to gambling on racehorses.

In 1931, Jackson recorded "You Better Run, Run, Run". Not much is known about this recording, and it is impossible to find. Biographer Laurraine Goreau cites that it was also around this time she added 'i' to her name, changing it from Mahala to Mahalia.
At age 26, Mahalia's second set of records were recorded in 1937. Jackson was accompanied by Estelle Allen on the piano and sang songs like "God's Gonna Separate The Wheat From The Tares," "My Lord," "Keep Me Everyday," and "God Shall Wipe All Tears Away."
Financially, these were not successful, and Decca let her go.
In 1946, Mahalia Jackson signed with Apollo Records. While she was with Apollo records, she recorded several records that initially had slow sales, but in time would become legendary hits. One song released in 1948 that helped to make her popular was "Move on up a Little Higher".

In the early 1950's Mahalia became the first African American gospel artist to sing at Carnegie Hall. Later in 1952, she toured Europe, and sang to capacity crowds. In 1954, Mahalia signed a contract with Columbia Records; Her debut album at Columbia was called "The Worlds greatest Gospel Singer".
Mahalia Jackson became an active supporter of the civil rights movement in the 1960s. She sang at the March on Washington at the request of her friend Dr. Martin Luther King, Jr. in 1963. After King's death in 1968, Jackson sang at his funeral and largely withdrew from public political activities.
Mahalia Jackson died of a heart attack on January 27, 1972. She is remembered for her strong, soul-like delivery, her deep commitment to her faith, and her lasting influence on musicians from all of the different types of musical genres.
http://www.myblackhistory.net/Mahalia_Jackson.htm